Information About Google's New Mobile-Friendly Algorithm Coming April 21st
For those of you that don't know Google is releasing their new Mobile Friendly Algorithm on April 21st. Google wrote:
"Starting April 21, we will be expanding our use of mobile-friendliness as a ranking signal. This change will affect mobile searches in all languages worldwide and will have a significant impact in our search results. Consequently, users will find it easier to get relevant, high quality search results that are optimized for their devices."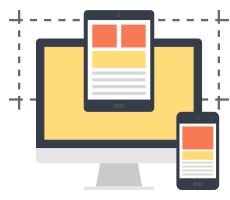 This is no surprise since mobile device use is growing exponentially. Recent statistics from Global Web Index has smartphone use at 80%, Tablet use at 47% and game consoles at 37%.  Which this influx of different viewports Google has been experimenting with mobile friendly factors for some time and now they are pushing mobile friendly labels in search results, a testing tool for mobile friendly sites, useability reports, and more to push developers to develop mobile-friendly web sites.
Google has created a location for developers to learn about the best practices for modern development, but most importantly, how to prep for their algorithm.
What factors is Google using for this new mobile-friendly algorithm? Here are a few we know of now…
Flash Usage – Flash not supported
Viewport Configuration – A defined viewing area (or viewport) that adjusts to the device's screen size.
Fixed-width Viewport – Content that flows in the viewport, so that users don't have to scroll horizontally or pinch the screen in order to see the entire page.
Font Size – Fonts that scale for easier reading on small screens.
Links – Links are too close together
Touch Elements – Easy-to-touch elements (e.g., buttons, links, etc.) that are well-spaced from other touch elements.
Visual design and motion driven by mobile-friendly technology.
There is a good amount of information available for users to review to figure out how to address their current site issues with the Google Webmaster Tools and then make the corrections. But if all this is overwhelming feel free to contact VisionSnap to help explain or work with you and your web site to get it ready for this big change coming in less than a month!