VisionSnap Launches BryantSolutions.com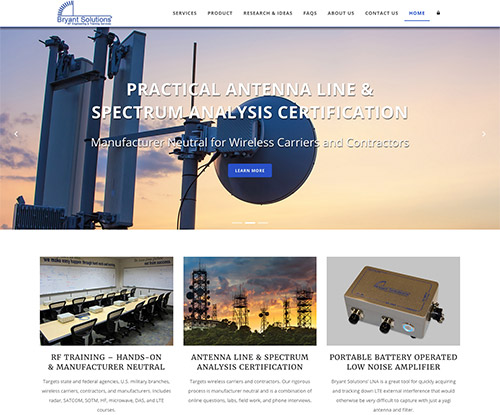 Bryant Solutions, Inc. began their experience with two frustrating firms which outsourced, over committed & under delivered. They cut their losses and decided to find another firm to either fix or rebuild their web site.
Bryant Solutions was referred to VisionSnap to design and develop their brochure web site with an online store to sign up for RF Training classes. We immediately began to gather information about the project, target market, products and services, colors, artwork, and imagery. We realize fixing the current site would be wasted time and money. Reviewing the pro's and con's of fixing the web site versus rebuilding, they decided upon a redesign and rebuild.
Re-designing and re-developing the web site allowed us to begin with a clean slate & framework. We utilized our 5 stage Approach & Process in order to create a site map, style guide (Logo treatments, color palette, and fonts), prototypes, design comps and the final web site.
During our process we consulted Bryant Solutions on the marketing message throughout the web site, aesthetics and imagery, branding and overall layout to create a clean, organized and responsive web site.
View the site on our portfolio or online at www.bryantsolutions.com.