VisionSnap Launches Mann's New Site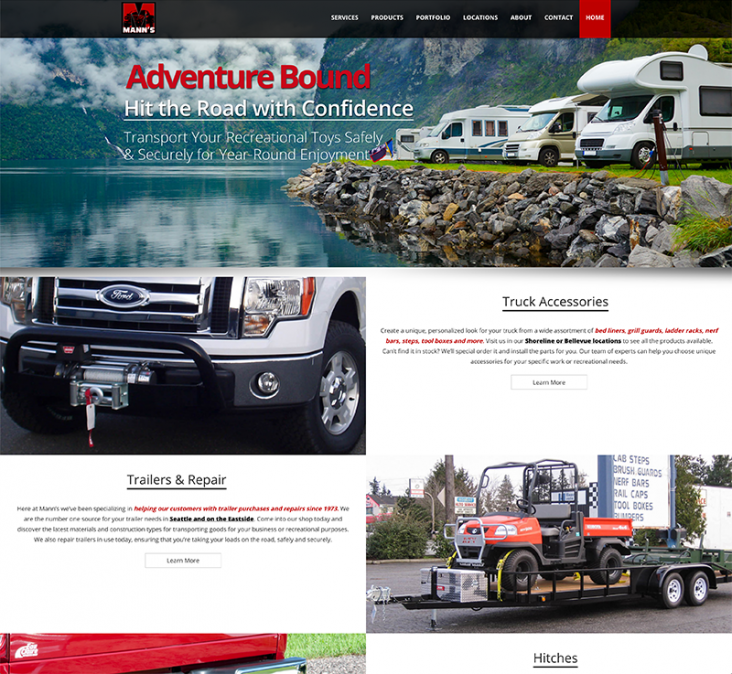 The Mann's web site is a new aesthetic and content update as well as the merging of two companies. In September 2018 Tim Mann retired and his brother Bill Mann took over the shop and merged his Bellevue, WA location with the Seattle, WA location.
The new site is a combination of the two locations, showcasing their products and services. Each shop has its specialty but between the two they can take care of your custom trailers, trailer hitches, 5th wheels, tow bars, truck accessories and other custom truck and trailer services.
Re-designing and re-developing the web site allowed us to begin with a clean slate & framework. We utilized our 5 stage Approach & Process in order to create a site map, style guide (Logo treatments, color palette, and fonts), prototypes, design comps and the final website.
During our process we consulted the Mann's ownership and our copy writer for the marketing message throughout the website, aesthetics and imagery, branding and overall layout to create a clean, organized and responsive website.
View the site on our portfolio or online at www.mannswelding.com.